They're Not Listening To Us
Making residents' voices heard
Jane Banfield, Jan 10, 2021
---
"They are not taking any notice of us, the residents," calls a friend from Rangitane last year. "We've found out Far North Holdings (FNHL) plan to rebuild the wharf and change the recreation area to parking, yet only a few residents have been consulted."
I'm curious. What is the purpose of FNHL? It's a ratepayer-owned company governed by our Council, yet it seems decisions are being made on community assets without consulting the local community!
"Nah, our fishing spot isn't there anymore," a small boy tells me, pointing out where he and his dad used to catch bait off Opua Wharf." His dad explains, "It's blocked off for Super Yachts now"! Heading up the road to Puketiti Hill, adjacent to Opua School, I drop in to chat with Mana Whenua occupying the site, and their allies, the 'Save our Soul' Opua Residents group. Despite being subject to Treaty Claims, this historic hilltop area of public land was recently sold by Far North Holdings to overseas investors. The same story of lack of consultation echoes in my ears. I'm told, "We've invited the Mayor to come on site and work with us on a solution. It hasn't happened."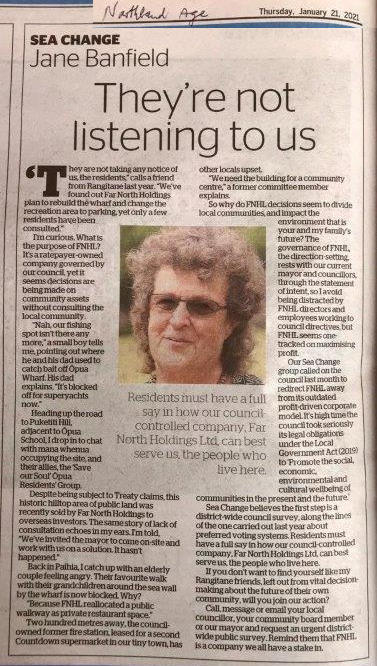 An abridge/edited version of this korero appeared in the Northern Age on Thursday, January 21, 2021.
Back in Paihia, I catch up with an elderly couple feeling angry. Their favourite walk with their grandchildren around the sea wall by the wharf is now blocked. Why? "Because FNHL reallocated a public walkway as private restaurant space." 200 metres away, the Council-owned former Fire Station, leased for a second Countdown supermarket in our tiny town has other locals upset. "We need the building for a Community Centre" a former committee member explains.
So why do FNHL decisions seem to divide local communities, and impact the environment that is your and my family's future? The governance of FNHL, the direction-setting, rests with our current Mayor and Councillors, through the Statement of Intent, so I avoid being distracted by FNHL Directors and Employees working to Council directives, but FNHL seems one-tracked on 'maximising profit'.
Our SEA CHANGE group called on Council last month to redirect FNHL away from its outdated profit-driven corporate model. It's high time Council took seriously its legal obligations under the Local Government Act (2019) to 'Promote the social, economic, environmental and cultural wellbeing of communities in the present and the future.'
SEA CHANGE believes one step is a district-wide Council survey, along the lines of the one carried out last year about preferred voting systems. Residents must be have a full say in how our Council-controlled company, Far North Holdings Ltd, can best serve us, the people who live here.
So, if you don't want to find yourself like my Rangitane friends, left out from vital decision-making about the future of their own community, will you join our action? Call, message or email your local Councillor, your Community Board member or our Mayor and request an urgent district-wide Public Survey. Remind them that FNHL is a company we all have a stake in!
UPDATE In the absence of Council surveying Far North residents about Far North Holdings, SEA CHANGE has create it's own survey which we will present to Council.
Author, Jane Banfield - SEA CHANGE